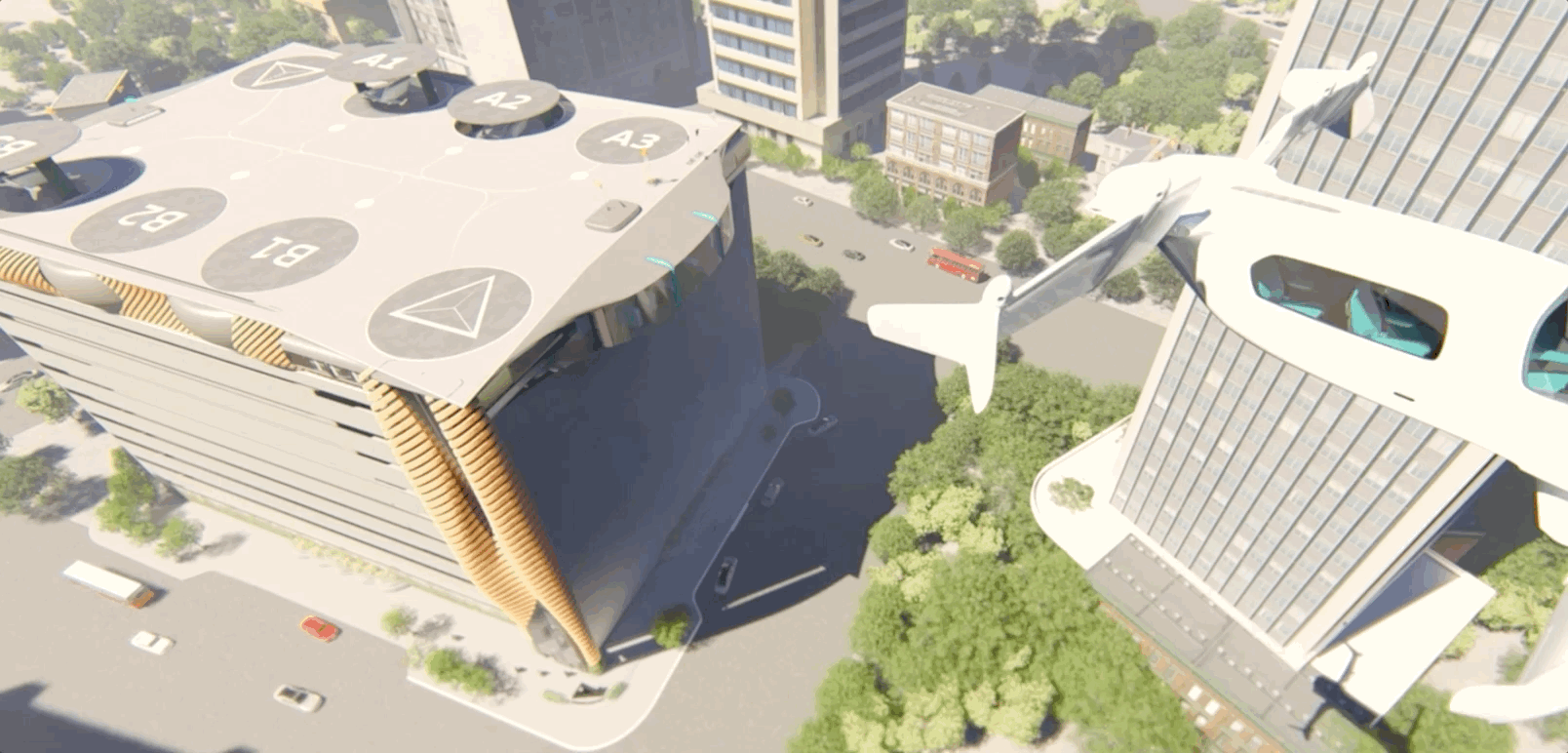 Uber Sponsored Project | Traveling With Shared eVTOL Aircraft
Team: Joyce Chiu + Erika Woo, Raul Desai, and Sagar Sahoo | Grad Product Design + Raul Reyes | Product Design
My Responsibilities: Interaction Design Lead (UI and UX) and Uber App
Timeline: Sept 2017 - Dec 2017
Software: Photoshop, Illustrator, After Effects, Sketch, Invision, and Keynote
What is Uber Elevate?
Uber is innovating the way we travel through shared air transportation using the eVTOL aircraft (electric vertical take-off and landing vehicles). Imagine traveling from San Francisco to San Jose in only 15 minutes with Uber Elevate. Uber is planning to offer this experience to Dallas and Los Angeles by 2023.
Our Mission
The ultimate goal of the Uber sponsored project is to establish a common user experience across an assigned vehicle type that will ultimately inform the development of hundreds of thousands of eVTOL aircraft on the Uber Elevate network globally. The eVTOL needs to be safe and enjoyable for passengers to ride in for 15 minutes and should be able to load and unload up to 3 or 4 passengers in under 2 minutes. We are also encouraged to explore and reimagine what a "Skyport" will be like.
Invited to Uber Summit 2018
Our group presented our Uber Elevate project to 750+ leaders from across the industry, government, and academic.
Final Deliverables: App, eVTOL, and Skyport
Understand who the users are
Design Decision
We decided to focus on business and tourist commuters for this project because they are the majority target user types for Uber Elevate.
Target User
Meet Sarah Goldstein
Journey Map
How Uber Elevate Works?
Sarah Uber Elevate Journey
Sarah Uber Elevate Journey
We collaborated with a film crew and an actress for the video shooting.
Design Question
How should we design for the future?
STEEPX
#1 Understand the Future Trends
We need to understand what the future is like through STEEPX activity.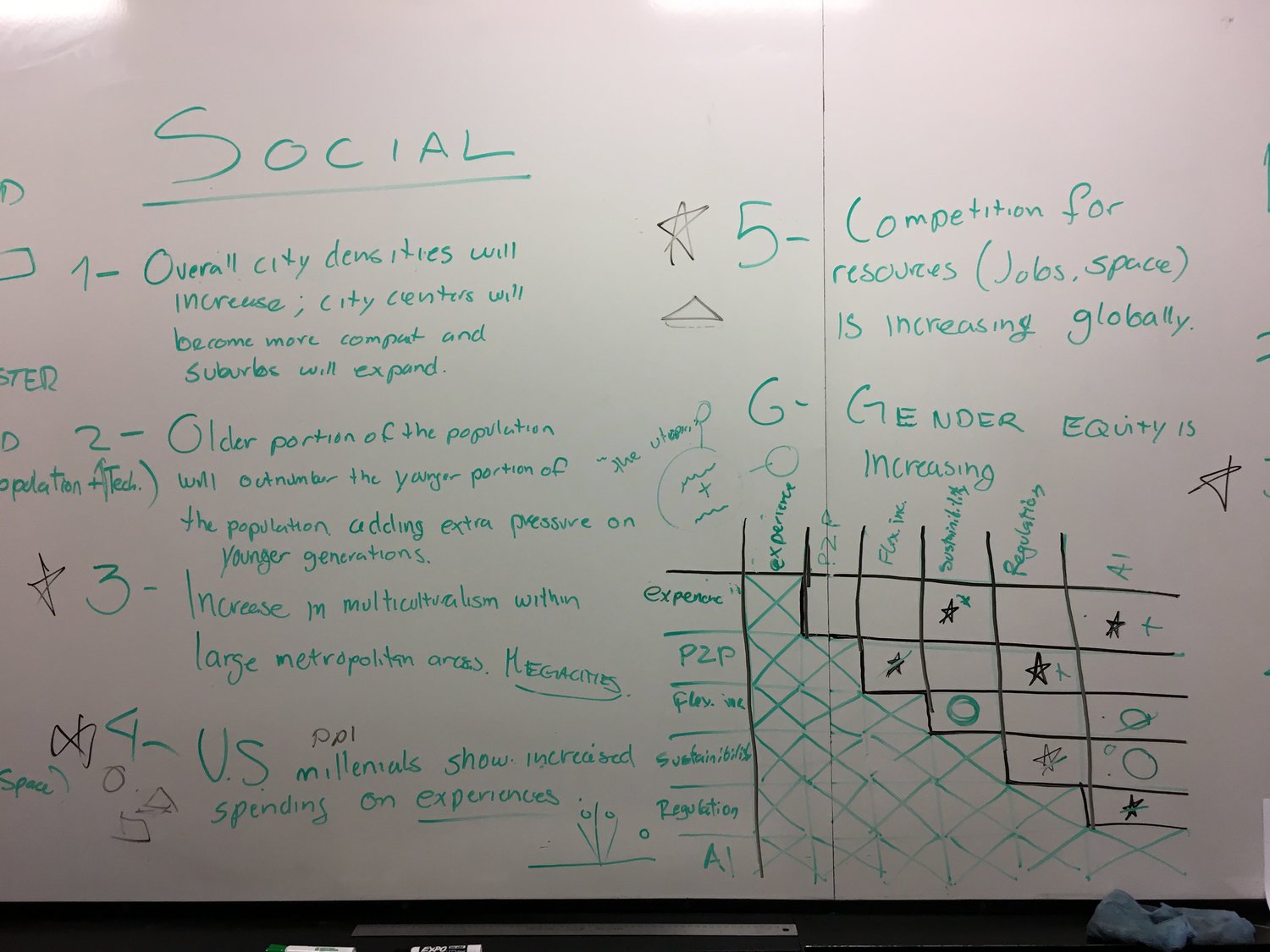 User Center Design
#2 Understand the Experience inside an eVTOL aircraft
We need to understand what is it like to be in a real size eVTOL aircraft. As a team, we built a real size tilt-wing aircraft with cardboards.
Key Findings
Passengers still have extra room for their legs, but not for carry-on luggage

The seating area is too compact

There is not much space for passengers to work on their laptop if they are traveling for business

It is hard for passengers to communicate with each other

Passengers are close to one another
On Site Research
#3 Understand the Flying Experience Above the City
We need to understand what is it like to be in a small aircraft flying above the city. We got onto a small aircraft and flew above LA.
Key Findings
We all started to take pictures and video of the city view as soon as we reached the sky

Couldn't take good pictures, because the wings are blocking the city view.

Rediscovered LA

It was very compact inside the small aircraft

Hard to communicate with the pilot

We would like to know where we are, flight status, weather conditions, etc.
What Brand Image Do We Want to Create for Uber Elevate?
Request Uberair
For the first time users who request an UberAir, the app will introduce the UberAir terms and conditions. Users then have the option to add Uber ground transportation to and from the Skyport and their final destinations.
Skyport Notification
Users will receive a notification once they arrived at the Skyport. Turning on Bluetooth allows users to have a seamless experience through Uber pay, check-in-less boarding and others.
Uber Pay
Users can grab and go at the Uber Store with Uber Pay.
Uber Help
Users can tap on Uber Help and ask any questions through voice commands.
Boarding Information
Users can see their boarding information and assigned seat.
On Trip Mode
Users can view the destination's weather and traffic status.
Map Views
Users can switch map views by swiping left on the map.
360 Degree Camera
Users can take pictures or videos during their ride with a 360° camera that is attached to the bottom of the UberAir (eVTOL).
Explore
Users can explore locations around them while they are on UberAir through the 360 camera. They can bookmark the locations for future trips.
Confirm Uber Pickup
Once users arrive at the Skyport, they can confirm their pick up to their final destination whenever they are ready.
User Flow
Building Architecture
Uber Ride + Uber Air App Sitemap
Ideation Sketches + Wireframe + Interface Process
Design Decision
Uber Entertainment
Why Uber Entertainment?
According to the Uber Elevate team, tourists are one of the biggest user groups.

Through STEEPX activity, we know that both tourism and social influence will continue to increase in the future.
From the flight experience, we learned that many of us like to take pictures of the city views. Also, we rediscovered LA while we were above the sky. Based on these findings, I decided to create a new feature called Uber Entertainment that will make the commuting experience more enjoyable.
I would love to share more of my process with you. Please contact me for more detail! Thank you!