Temperature Responsive Jacket For Traveler
Team: Joyce Chiu + Lisa Chang | Graphic Design
My Responsibilities: Interaction Design Lead (UI and UX), Miniall App, Website, Jacket Features, and Miniall Video Animation
Timeline: Sept 2017 - Dec 2017
Software: Photoshop, After Effect, Sketch, Invision, and Keynote
Miniall Final Deliverables
The Challenge
Business travelers and tourists share two similar pain points when they are traveling: heavy luggage and a weakened immune system from constant climate and environmental changes.
Interview
Learning From Users
Interview Goals
Understand what their travel routine is like

Understand their travel pain points
Key Findings
Luggage occupied with seasonal clothing
We found out that a common cause of heavy luggage is seasonal clothing.
"I love traveling, but I hate packing. My luggage is mostly occupied with seasonal clothing…there is no space left in my luggage to put my other stuff and my bags weigh a ton…"
2. Switching seasonal clothing due to climate change can be inconvenient
When traveling from two very drastically different climates, travelers would have to change into more appropriate clothing.
"I hate changing my clothes every time I arrive at a new place, especially when I'm traveling from somewhere hot to somewhere cold."
3. Becoming sick due to climate and environmental change
Every participant has personal experience regarding getting sick due to climate change.
"I always catch a cold or get sick due to climate changes or food poisoning…"
Design Question
How can we allow travelers to pack lighter suitcases, while also staying healthy on the road?
Design Solutions
• Seasonal clothing occupies luggage space
All you need is one smart jacket.
• Switching seasonal clothing due to climate change can be inconvenient
A responsive jacket that can change based on the environmental, climate or temperature change.
• Becoming sick due to climate change
A health report, like a personal nutritionist, that keeps track of your health status to help maintain your health on the go.
Introducing Miniall
Miniall is an avant-garde fashion brand that is inspired by the combination of fashion, technology, and healthy lifestyle. This multifunctional jacket provides automatic temperature adjustment and health detection.
Target Users
Meet Julia and Tom
Miniall Journey Storyboard
Miniall Journey
We collaborated with film students Randy Wang and two models Hanna and Fabio for video shooting.
My Jacket
This is the default screen where it featured the user's Miniall jacket. The user can swipe up to view the current jacket, the user's body, and the surrounding temperature.
Health Report
Miniall app is the user nutritionist where it provides the user's health data from the skin tattoo that is located on the wrist of the jacket. Health report allows the user to see their health status and at the same time keep the user healthy.
Menu
Inside the menu, there is "My Jacket", "Bookmark, "Health Report", "Jacket Status", and "Contact"
Temperature Bookmark
The saved temperature bookmarks are designed for future use. According to the user's preferences, they can save their current jacket temperature to a bookmark. There are two ways of saving a bookmark; the first way is to save it through the app and the second way is to save it through hand gesture.
Miniall Website
Miniall is available online for people around the globe to access and learn about Miniall and our products.
App Design Process: Sketches -> Wireframe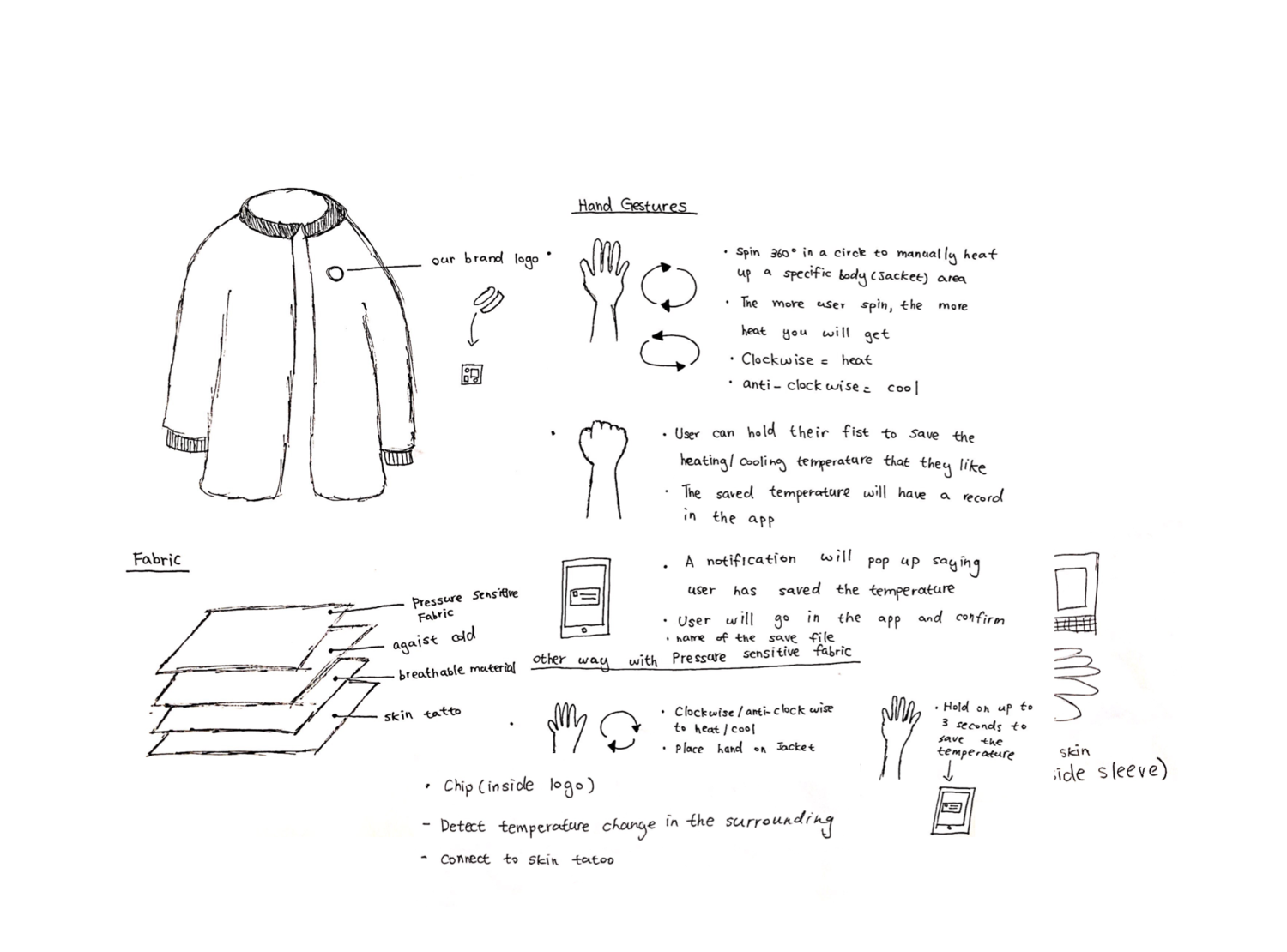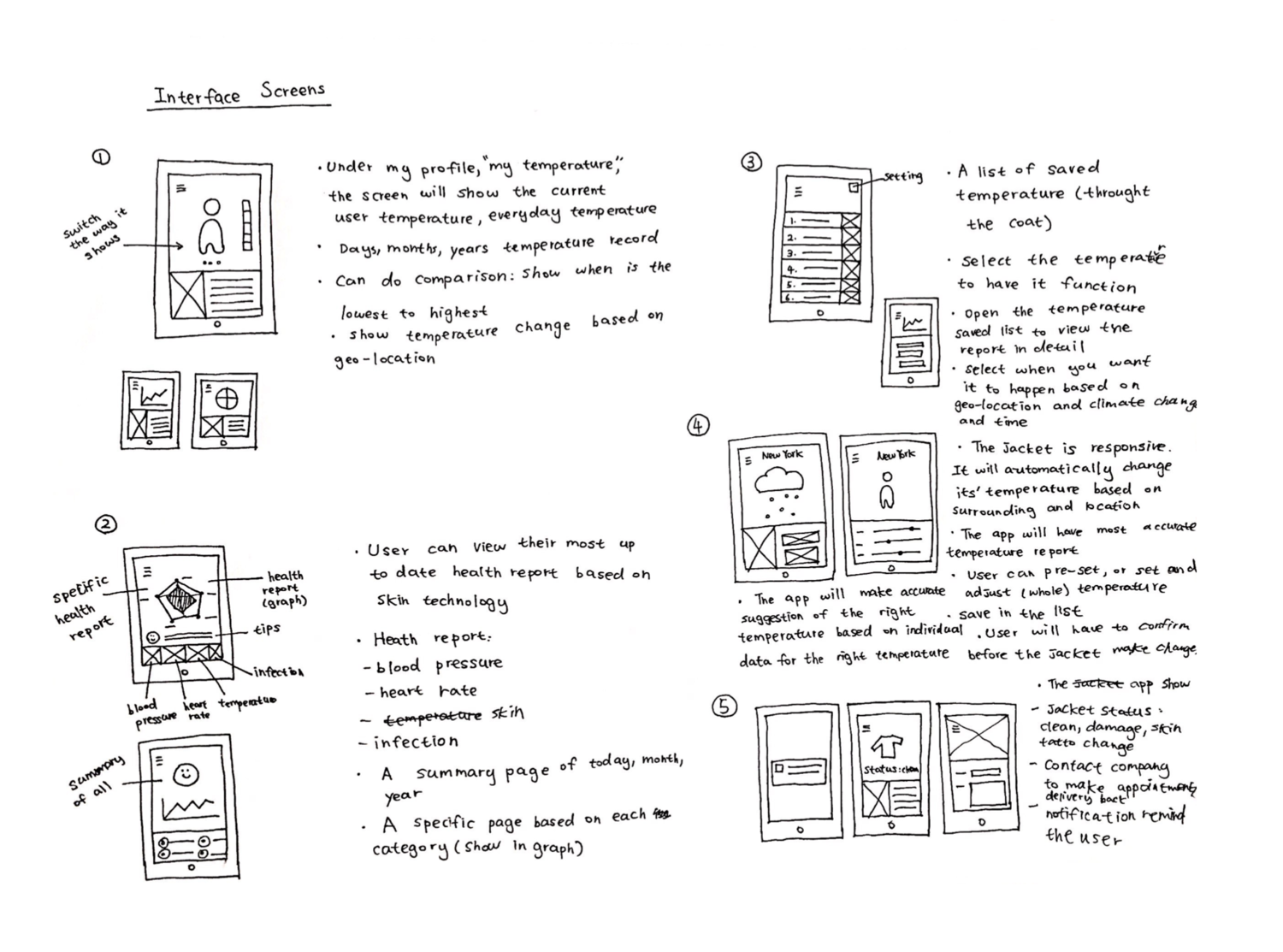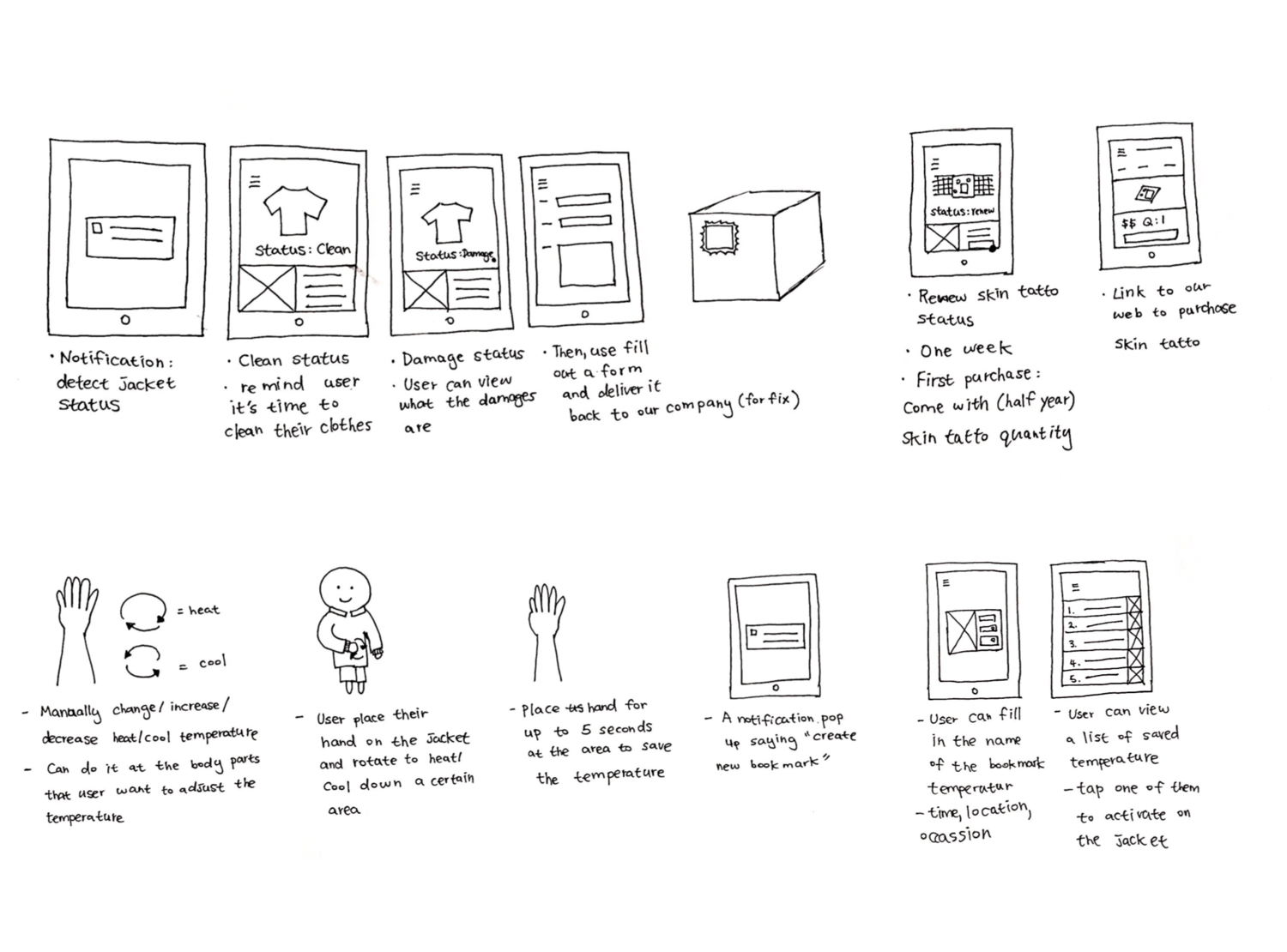 A/B Testing
Design Decision and Users Feedback
A/B Testing
Design Decision and Users Feedback
Jacket Photoshoot
We collaborated with a photographer, Emma Liu, and two models, Juuko and Tom, for the jacket photoshoot.
Jacket Design Sketches and Process
We designed the Miniall jacket and chose the fabrics. We collaborated with fashion freelancer Emma Chen in Taiwan, who helped us produce the jackets.
I would love to share more of my process with you. Please contact me for more detail! Thank you!