Jeep Sponsored Project | An Off-Roading Theme Park With Autonomous Vehicles
Team: Joyce Chiu + Lujie Huang | Transportation Design (Exterior Vehicle Design) + Guanying Zhou | Transportation Design (Interior Vehicle Design)
My Responsibilities: Interaction Design Lead (UI and UX), Vehicle Screen, Dashboard, Willys Wristband, Voice User Interface, User Journey, and Visual Design
Timeline: Sept 2018 - Dec 2018
Software: Photoshop, Illustrator, After Effects, Sketch, Solidworks, and Keynote
The Goal of FCA Sponsored Project
Envision what Jeep is like in 2030 in China.
Our Mission
As a team, we want to introduce off-roading as a new entertainment to China. Redefine automotive culture and allow new customers to indulge in Jeep culture in immersive ways. We would start with highly urbanized megacities in China, where most of the off-road trails are not easily accessible, targeting city dwellers who would like an off-road experience with convenience and ease.
What is Jeep Continent?
Jeep Continent is an off-roading theme park that redefines automotive culture and creates an immersive off-roading experience for everyone in China. The park offers electronic autonomous vehicles and users can choose to drive the vehicle manually or autonomously. The park provides different terrains for off-roading experiences, entertainment, and education purposes.
Kick-Off
To create an off-roading theme park we need to understand off-roading and theme park
#1 Off-roading culture with Jeep
55% of Jeeples use their Jeep vehicles for off-roading, outdoor activities, and racing.

Jeep vehicles can travel in gravel, snow, rocks, mud, sand, and water.

Car Modifications for different terrains is needed.

Off-road recovery kit is required.

Spotters needed: a spotter is a second set of eyes to help a driver navigate difficult obstacles.
#2 To create an off-roading theme park for everyone, we need to understand what stops people from off-roading and what problems off-roaders currently face.
Off-roading Problems:
Off-roading requires time and skill to master.

The wrong modification for the wrong environment can be dangerous.

Off-roaders need to bring a recovery kit and other a list of off-roading equipment and it can be inconvenient

Environmental damage

Dangerous and risky.

Isolation. No guidance.
Design Solution:
Provide autonomous off-roading vehicles that allow everyone to enjoy off-roading without knowing how to off-road.

Introduce and guide users to choose the right car modification packages based on their needs and the terrain they are going to.

Provide recovery kits and repair service to the users.

Inside the park, there will always be maintenance service that keeps the environment in good shape.

A security system inside the park and the vehicles. If a vehicle is damaged or someone gets hurt, people can always request for help; the Jeep Continent help center will send out emergency services and support staff to the users.

An AI assistant to guide and help users anytime and anywhere, both inside and outside the vehicle.
#3 To create a theme park, we need to experience a theme park ourselves.
The goal of the field research: To understand how an amusement park works and discover current problems, in order to create a better experience at Jeep Continent.
Problems:
It is a big and crowded place, but everyone is isolated at the same time. People seem to be on their own.

Lack of guidance: Information Desks are far apart. Maps and brochures are not informative enough for first-time visitors.

Long lines and waiting time.
Design Solution:
Improve communication between customers. Create an environment that allows people to easily make friends and get connected.

Users will engage with an AI that will guide them through the park.

Create a fun environment for people to connect and do activities while waiting.
Using these insights and design solutions, we created Jeep Continent.
Journey Map
How Does Jeep Continent Work?
Journey Map
What Are the Jeep Hub and Mobile Truck?
Target User
Meet John Chang
John's Jeep Continent Storyboard
John's Jeep Continent Journey
Dashboard
The dashboard is designed for an autonomous electric Jeep vehicle. The x-view allows users to see what the vehicle is seeing (e.g. obstacles).
Willys Engagement
Users can choose the engagement level of the virtual assistant.
Jeep Hub Booking
Users can choose the car model that they would like to modify.
Jeep Mobile Truck Booking
Users can book mobile truck services.
Home Screen
Users can use the 3D map to see upcoming obstacles without the help of a spotter. Users can also view roll and pitch while driving.
Jeep Race
Users who reach level 3 can send race requests to other off-roaders.
Accomplishment and Race Levels
How should Users Interact with the Screen?
Visualizing Voice Virtual Assistant
The voice virtual assistant name is Willys. The character is inspired by the grill on the Wrangler vehicle.
How I came up with Willys Engagement Level?
Current Jeep Screen
I want to design screens for Jeep Continent while following the Jeep brand guidelines.
Moodboard
Jeep Continent is an off-roading theme park that brings fun, wild adventures to everyone and I want to reflect these feelings to the screen UI. I was inspired by video game UI design because it speaks a similarly entertaining and authentic language.
Wireframe and Interface Process
What is A Willys Wristband?
Inside Jeep Continent, users can do outdoor activities such as hiking, fishing, camping and more. How can Willys continue to serve users when they are not inside a vehicle?Introducing Willys wristband, a voice-controlled wristband that can serve and guide its users when they are doing outdoor activities. A Willys wristband will be given to users when they enter the Jeep Continent. Willys is connected to the Jeep Hub, Mobile Truck, and the Jeep vehicle.
What can a Willys Wristband do?
Willys is connected to the hub
Willys will inform users to pick up their vehicle when it is ready.
Willys is connected to the vehicle
Users can tell Willys to have their self-driving vehicle pick them up at the assigned location.
Willys Wristband Physical Product
Designed in Solidworks. 3D printed and Spray-painted.
Sketch, Solidworks to 3D Print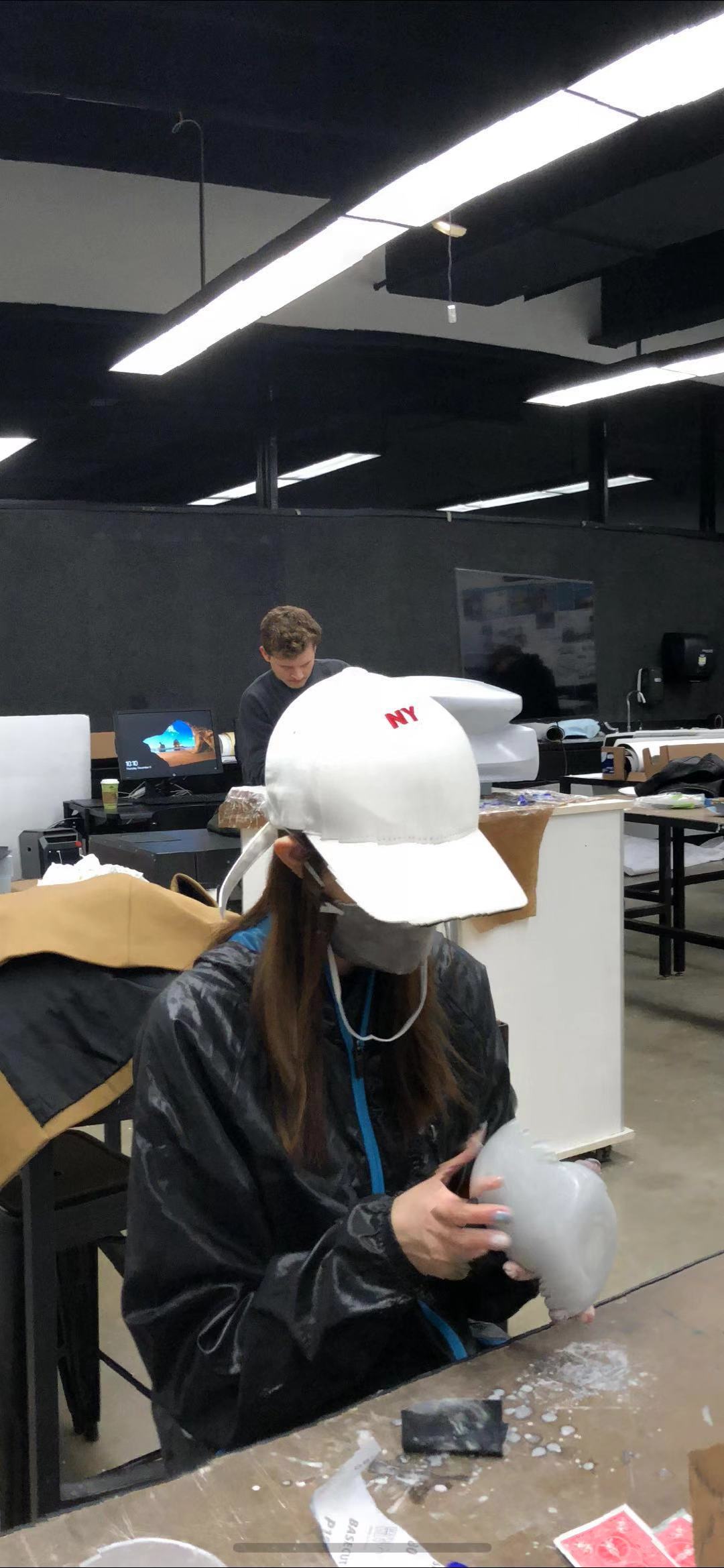 I would love to share more of my process with you. Please contact me for more detail! Thank you!