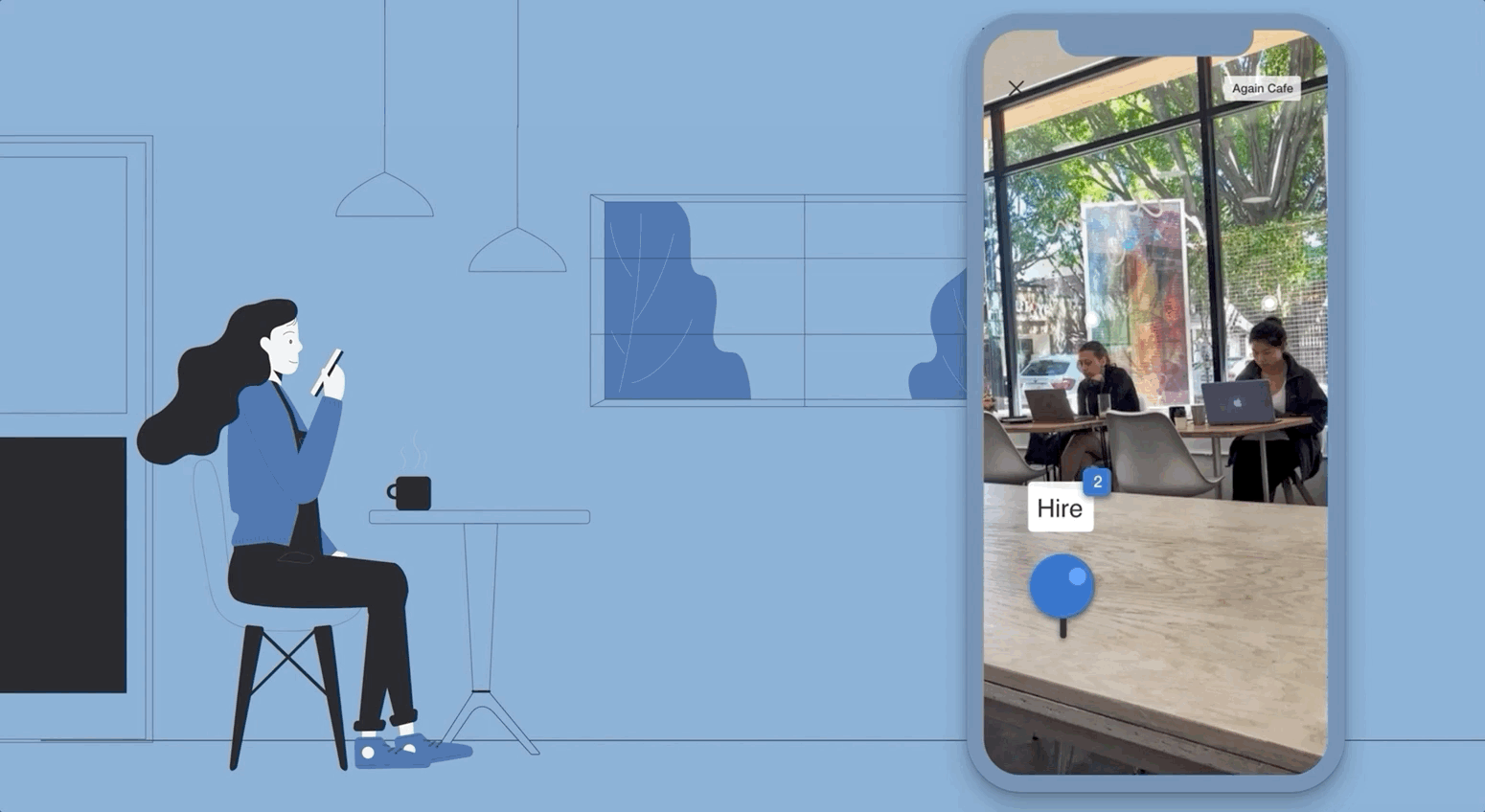 Connect Professionals Through Augmented Reality
Independence Project: Joyce Chiu
Responsibilities: Interaction Design Lead (UI and UX), Concept Development, Conducted Research, Prototype, and Visual Design
Timeline: Jan 2019 - April 2019
Illustration: Ella Lee | Illustrator
Software: Photoshop, Illustrator, Sketch, Flinto, Torch, and Keynote
Concept Development
How did I come up with Cospace?
Problem Statement: Technology has made us more connected than ever, but it has also made us forget real human connections and made us less communicative. We no longer have to go out and meet people, because technology has given us the opportunity to meet new people easier and faster online. People are becoming less human, communicative, and social because of technology.
Mission Statement: With this independent project, I want to challenge myself. I want to come up with a design solution and a digital product that will bring back real human connections and enhance physical interaction through technology.
Inspiration: Pokemon Go is an augmented reality mobile game that requires players to go outside and engage with the environment in order to catch Pokemon. This game inspired me because I realized that augmented reality can motivate people to engage with the environment and other people.
Design Question #1
How can I leverage Augmented reality to motivate people to meet others in person and have face to face connections?
Discover
People are motivated to meet others in person for their careers. 70% of Jobs landed through networking. It is the most successful way of gaining employment.
Who are the main users for networking?
Professionals who want to connect

Job seekers

Freelancers

Employers
Problem Statement
Online networking allows us to connect with a lot of professionals, but it is hard to tell if they are the right people.

Networking events allow us to establish personal connections, but they are very time consuming.
Interview
Learning from Professionals
Interview Goals
Understand their working routine

Understand their experience when they are doing online and offline networking

Understand their experience when they are meeting professionals in person
Key Findings
Coffee Shops: the third-party place where many professionals go to work and talk business.

"I like to work in a coffee shop because everyone works there and most of them are on their computers. Sometimes people like to discuss their business there! There is free Wifi and I can order food and drinks while I am working. I guess I like the vibe there."

Online networking allows professionals to connect with others globally easier and faster, but it loses the quality of connection.

"I use LinkedIn and Workday for online networking because I can easily connect and expand my client's connection. But I personally don't know all of them in person and it is sometimes hard for me to know how to talk and work with them."

Offline networking allows people to build trust and have closer connections, but it is time-consuming and sometimes it can be awkward to meet a new person and talk about work in public.

" I think meeting a person face to face can build trust and at the same time, I can get to know them as a person. When I get to know this person more, I know how to work with them better. The negative thing about networking offline is that it is time-consuming."

"I meet new people for work. Sometimes it is weird for me to talk about work when I meet that person for the very first time."
Field Research + Interview
Learning from Wework
"We are like a hotel for different companies."
Key Findings
After Interview with Michael Delamadrid who is a community leader at Wework.
Professionals use Wework as a place to grow their networking and at the same time expand their connections.
"There is a photographer at Wework who has met all his clients here!"
When all professionals are working in one place, they will connect and collaborate with each other for business.

"We see two startups become one. We see collaboration. We see people get more job opportunities here."
Based on research + Interview insights
Online + Offline Networking Problems
Online Networking
Online networking allows us to connect with a lot of professionals, but it loses the quality of connection

Not trustworthy

Uncertainty

Lack of communication

Hard to maintain a connection
Offline Networking
Assigned location and time

Time-consuming

Not knowing others' motivation and goals in the networking event.

You're outside your comfort zone

Guests who visited weren't being followed up
Design Question #2
How can I solve the current problems for online + offline networking based on these findings?
Design Solutions
• Increase the "quality" and maintain the "quantity" of professional connections.
• Create a platform where user can build their networking whenever and wherever they want
• Meeting professionals in person will build trust and increase the quality of communication
• Public places: coffee shops, events, and conferences are normally where professionals gather the most to work and talk business. How can we improve the connections there?
• It is more efficient if professionals knew everyone's purpose for networking before connecting
Design Question #3
What happens when networking meets augmented reality?
Introducing Cospace
Cospace enables users to connect in person to discuss professional opportunities in gathering places such as coffee shops, events, and conferences. Cospace leverages augmented reality to help users to identify people and opportunities around them.
Target Users
Meet Jenny, William and Mike
Onboarding
Users can use their LinkedIn or Upwork account to sign into Cospace.
Newsfeed
Users can stay connected and updated with their connections through the newsfeed.
Explore
Explore helps users to find the right professionals they are looking for and shows where they are currently at. Users can choose to meet with the people who share the same purposes and motivations. For example, if William is looking for employers in Explore, he will tap on the "hire" button and a list of employers who are hiring will show up. The employers with tick marks are matches.
Explore AR
Explore AR helps users find out what types of professionals are currently in a location by scanning the place with AR. Users can see other users' profiles and pins inside the space.
Wave
Users can greet the people who they would like to meet by waving at them through the app. When both users wave at each other, they are ready to meet in person!
Schedule Meeting Chatroom
When users are not in the same space, a chat room will be available to facilitate scheduling a meeting.
Busy Mode
When both users wave at each other, Cospace will change the users' statuses from available to busy in order to inform other Cospace users that the user is currently occupied.
Connect
The connect button will only appear when both users wave at each other.
Job Pin
Employers can post their job offers in the job pin.
Drop A Job Pin
Employers can drop their job pin into the hire pin in a location through AR.
View Job Opportunities
Job seekers can tap on the hire pin to view the available job posts through explore AR.
Matched Candidate Notification
Once the job pin is dropped in a location by employers, Cospace will notify the matched candidates about the job opportunity when they enter the room.
Design Solutions -> Ideation Sketches
Usability testing
Ideate + Validate
The goal of the usability testing was to test the concept, clarity of components, and user flow. I made a paper prototype that demonstrates the key user flow of the Cospace app to test with three participants.
I would love to share more of my process with you. Please contact me for more detail! Thank you!
Hi! I am currently job seeking! Please shoot me an e-mail if you are interested (or wave at me on Cospace)!